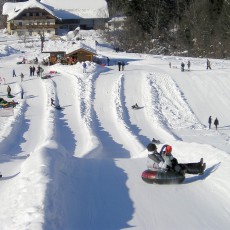 The adventure area with snow-tubing tracks is situated right behind the Tourist Office. There are several perfectly groomed runs each 170m long. Go down lying or sitting and spinning around in the tube. There are more than 70 tubes of different sizes at your disposal. No need to work out, there is a surface lift up the hill, night owls have fun on the illuminated tracks on weekends!
After having the Snowtubing fun- or in between, the nice snack bar offers you hot wine, coffee, cakes and other small dishes. That's the place where your hands and feet are getting warm again for the next Tubing ride.
Prices
Adults
Children
(6-14 years)
1 ride
1,50
1,20
1 hour
9,50
8,00
2 hours
13,50
12,00
10 Points Card
11,00
9,50
Half-Day Card (10:00 – 13:30 or 13:00 – 16:30)
18,00
16,00
Evening Card (starting at 17:00, Sun at 16:00, 3 hours)
19,00
17,00
Toubing Carousel, 10 min. (children below age 10 only!)
-
2,00
Group discount for more than 15 people 10 % off!
Snowtubing Faistenau
Kühbergstr. 42
A-5324 Faistenau
Phone: +43 (0) 6228/2434
Mobil: +43 (0) 664 3938334
Mobil: +43 (0) 664 8281960 (Phone in the tubing hut – only during the lift times)
e-mail: info@snowtubing.at
www.snowtubing.at