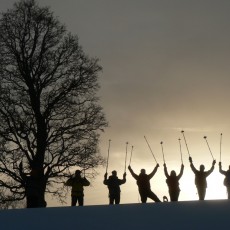 Hiking is a very popular leisure activity even in winter. Enjoy the peace and quiet of the mountain environment and explore the winter wonderland surrounding Faistenau.
Detailed course of the routes available in the free wintermap of our region, ask for it at your host or in the tourist office.
Circular route "Dorf" (45 minutes)
Right behind the church (cleared path) next to the snow tubing area.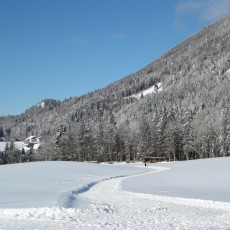 Circular route "Kugelberg" (1 hour, Path Nr. 43)
Pass the church and turn left into Bramsaustraße, at Bramsau Bräu turn left and take the path Kugelbergweg, at Fitnessparcour turn left back to the road.
Hiking route "Hamoos" (1 hour, Path Nr. 46)
At Farmer´s house Raffl take the cleared wood path through Hamosau and then the road leading to Tiefbrunnau back to the village centre.
Circular route "Lidaun" (2 hours, Direction Path Nr. 44)
From village centre on Dorfstraße to Sport Auer, before you reach it take the left down to Lidaun, Ebenau & Strubklamm until you reach Gasthof Strubklamm (Seewirt). Along Almbachstraße in direction Vordersee to the T-crossing, turn left back to the village centre.
Circular route "Ramsau" (2,5 hours, Path Nr. 42 & 40)
From village centre on Dorfstraße down to Gasthof Botenwirt, on the left side of gas station Wörndl turn right up and again right on the top. Pass Tischlerei Schöpp, on the next crossing straight ahead passing the chapel, the next left to the main road, left along the road and after 200 m right back to the centre.
Circular route "Hintersee" (45 minutes, Path Nr. 46)
Start at parking lot Forstverwaltung (Forestry Department) in Vordersee, then around Hintersee. When avalanche risks are high in our region, a short part of this circular route might be closed, so be ready to turn back in that case.
Circular rute "Panorama path" (45 minutes alongside the cross-country tracks)
Start at Sport Auer along the tracks passing the backside of our school and the farmer Bichlbauer, then on Bichlstraße and Bramsaustraße (passing the tennis court on that crossing) back to village centre and onward to Sport Auer.
Hiking route "Schafbachalm" (1,5 hours, Path Nr. 47)
Parking at Keflau (Tiefbrunnaustraße to bus stop chapel Hatzenkapelle, then right following the signs to Schafbachalm). The cleared track up to Schafbachalm and down again. Ideal for sledding!
Hiking route "Mittereggalm" (45 min., Path Nr. 41)
Parking at Döllerer. (Tiefbrunnaustraße, then right to Schönaustraße, at Zentenbauer right to farmer Döllerer). Track up to Faistenauer Schafberg to alpine hut Mittereggalm. Open on Saturday and Sunday. Other days or group tours on request, phone: 06228/7113.
Hiking route "Felsenbad" (1,5 hours)
Behind church down Stegleitenstraße passing the sports field, at T-crossing left and the fist possibility right and down across the wooden bridge. Then the first left and over the second wooden bridge then left back again to T-crossing and right back to the village centre.