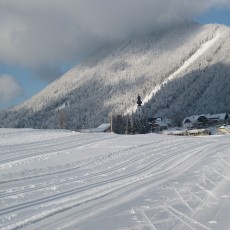 All trails in the cross country village Faistenau are open; we prepare them new in the morning. Now the weather is dim, but the forecast predict sunshine & blue sky for the weekend and the whole next week! So put on your cross-country skiing clothes and your skis and enjoy the wonderful and sunny days on the trails of Faistenau.
The Auer parking court is closed; please use the parking court behind the church and the Oberascher parking court.
Event tip:
From 9. – 13. March 2015 in the ski area Gaissau-Hintersee the huts offers regional delicacy. They use their own products and have special menus. For example: Lamb cutlet, spareribs, pork meat cut into strips, alp chilli or cheese spaetzle with onion.