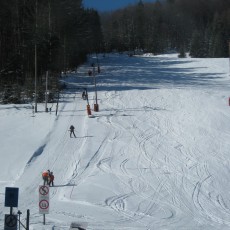 In the village area the slopes are in a good order, we will prepare them new till the evening.
Despite the warm temperatures and the many visitors during the day the trails are not so beautiful.
Also we have to adjust the signs a little bit, for example at the sport shop Auer parking court the running direction has changed because of a new building.
In the Tiefbrunnau valley it was also not ideal; here the trails were prepared in the afternoon.
Please forgive us the start-up difficulties, in the next few days the business should run trouble-free again.
New: Every Friday you are able to go skiing in the night at the Oberwaldlift, from 6 – 9 pm.