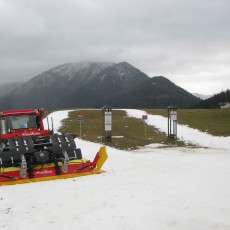 Update 16.12.19:
The artificial snow trail in Faistenau is still in a good order and will be prepared regularly.
The trail in Hintersee also is ridable but not fresh prepared since Friday.
Status 13.12.19:
The last view nights were cold, so we were able to produce some acrtificial snow. Now we prapare the school sports area and a little trail in the field. There are about 1 km skating & classic tracks inkl. floodlight. Take a look at our Webcam for this.
In Hintersee they are also make a skating trail, here you can use about 4,5 km stating at the village centre.
At the weekend also our Christmas market Advent unter der Linde take place, visit us there!
We hope there comes more snow & wish you a lot of fun!