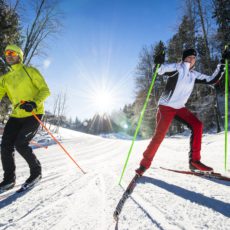 …what's missing is enough snow! The signs for our cross-country ski trails will be added soon. As soon as enough white gold is available, we will immediately start the cross-country skiing. In addition, we will also produce machine snow and if the temperatures and the ground allow it, we will again create a machine snow track like last year.
There is a common ticket for the trails in Faistenau and Hintersee for the winter 2020/21.
In total, 60 kilometres (30-kilometre skating and 30 kilometres classic) of cross-country ski trails are available in Faistenau. Hintersee has 12 kilometres classic and 8 kilometres skating trails.
If you are looking for Christmas presents- what about a season pass for our cross-country ski trails?
This one is available for €60. Our day pass is €7 and the week pass is €25. On request, we will send them via post. Just send us an E-Mail to: faistenau@fuschlseeregion.com or call us on +43 6226/838441.
If you want to improve your cross-country skiing knowledge, Ski School Nordic Fun is the right choice for you!