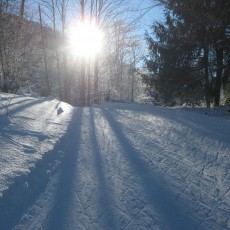 Enjoy a wonderful cross-country skiing weekend in Faistenau-Hintersee!
Tiefbrunnau trail:
Please note that on the connecting road from Faistenau to Tiefbrunnau and back there are some parts with not so much snow. Be careful there especially at the downhill runs. We are not able from now on to make this new again, but it would be still drivable on the weekend. The last trail part from the Nr. 4 parking to the turn back is not prepared yet. If you start at the Nr. 3 parking (playschool Tiefbrunnau) till the Nr. 4 parking ("Loipenstüberl" inn) the conditions are good, despite the snow situation particularly in the wood.
Village trail:
The village trail is only drivable as skating track, because of the snow situation we also can not make this new again from now on.
Kugelberg trail:
At the Kugelberg field you can use the skating & classic trail, access at the tennis court.
Artificial snow trail:
And certainly our artificial trail skating & classic we make new regularly, here you can use 1 km starting at the school sports area. The connecting part to the Kugelbergtrail is also drivable as skating trail.