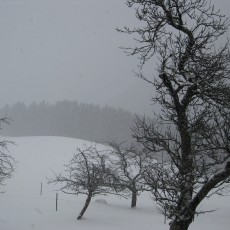 Update – trails report: 26.01.2015, 1 p.m.
The village area (skating and classic trails) is prepared.
Tomorrow morning our Pistenbully also try to prepare the Tiefbrunnau trail.
It´s snowing again in Faistenau!
Now we have about 15 cm of snow, but unfortunetly it´s to less to prepare all trails!
Our Pistenbully is now on the way in the village area, but he only can make the skating trail.
We hope for more snow, but the weather forcasts are good.