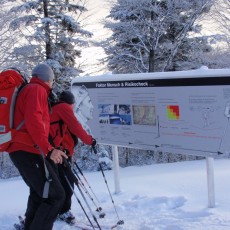 Ski tours and snowshoeing through magical landscapes covered with deep snow is a special experience. The most favourite ski tours in Faistenau are from the valley Tiefbrunnau up to the peaks of Faistenauer Schafberg, Loibersbacher Höhe (New: ski tour educational trail), Zwölferhorn or Pillsteinhöhe.
The exact routes are available for free on our "Winter Map" at your host or in the Tourist office; there you can also inform you about guided tours.

Ski tour educational trail Salzkammergut:
The project is located in Tiefbrunnau, starting point: parking court Streitberg (7 wall chart) and offers you interactive learning & avalanche knowledge on tour. A modern learntool which combine theory and praxis in a method style concept. A winter sports man in the mountains can learn here new and interesting things.
The path is especially suitably for beginners and can visit every time for free. Guided Tours you can book through the local tourist office: Complete equipment plus guide to a price of Euro 75 per person (this is for minimal 4 people).
Equipment for rent at Sport Auer or the ski schools.
Ski and Snowshoe Tours on your own risks, please make sure you consider the risk of avalanches correctly under www.alpin.salzburg.at!
TIP:
Guided tour through the ski tour educational trail
dates:
09.01.2021
16.01.2021
23.01.2021
13.02.2021
time: 8.00 a.m.
meeting point: Hotel Alte Post in Faistenau
programme:
First you start with a short theoretical part in the morning. After lunchtime you drive to the starting point of the ski tour educational trail. And then it goes up to the top of the mountain!
At the end of the tour there is a small meeting where you can exchange opinions.
price per person: 40,00 euros
price for a complete equipment: 35,00 euros
price for snow shoes complete equitment: 10,00 euros
Application on the tourist office in Faistenau: mobil number +43 (0) 6226 83 84 41 or e-mail faistenau@fuschlseeregion.com