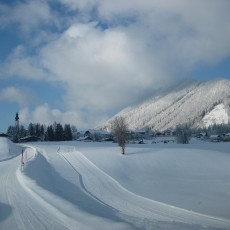 There are still good cross-country skiing conditions in Faistenau. All tracks are prepared; depending on the frequency we will make the trails new again. At some parts the snow is icy, also at the street crossings there is less snow. Please be careful especially at the downhill runs. Beginners we recommend to take the trails in the Tiefbrunnau valley, start at the parking 3 or 4.
Do you know that our free ski bus is also for the cross-country skiers? Here you find further information.
Till the 18.03.18 you are able to take the bus for free. Beside in the cabin (next to the school entrance) you find also a chancing room, showers and lockers.