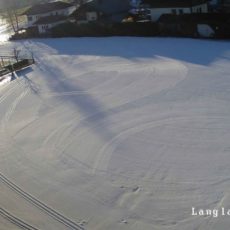 Our artificial snow trail in Faistenau (start at the school sports area) will be prepared daily, here you find a 1 km skating & classic trail. The sun shines, visit us and enjoy the day!
In Hinteresee you can use a 8 km classic and 6 km skating trail from the centre to the Lämmerbach valley. Please note that because of the rain and less snow situation it could be hard and icy there. It is also not possible to prepare the trail new at the moment.
For tomorrow the weather forecast predicted snowfall, we hope for enough that we finally can prepare our whole cross-country ski tracks.