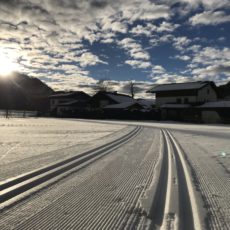 Our trails are prepared, but please be carefully because of the snow situation!
Use our artificial snow trail (start at the school sport area 1 km classic & 1 km skating trail) or the Kugelberg field – start at the tennis court parking.
In the Tiefbrunnau valley, start at the Nr. 3 parking (playschool Tiefbrunnau) or at the Nr. 4 parking ("Loipenstüberl" inn). The connecting trails from Faistenau to Tiefbrunnau and back are not prepared.
And also the trail in Hintersee is in a good order, because here is more snow. Start at the centre parking.