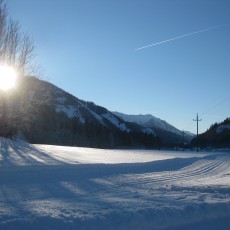 The snow situation is quite good, only at the street crossings and sunny slopes (Village trail & connecting trail to Tiefbrunnau) there is less snow. The whole trails were prepared fresh yesterday in the evening; because of the warm temperatures some parts of the slopes are soft or icy. So please be careful, especially at the downhill run!
The first part of the Kugelberg trail, start school sports area, is not fresh prepared but drivable. In the Tiefbrunnau valley, start parking Nr. 3 or 4, there are still good conditions.
We hope it snows soon again!
New: From now on there is also a 2 km skating trail in Hintersee near the village hall.
On Sunday, 14.01.18 there is a race on the trails in the village area, so this slope is shortened driveable till noon on that day. Please start then in the Tiefbrunnau valley or in Hintersee. But it is also possible to start at the tennis court: Kugelberg trail, or at the sport Auer parking: Village trail.