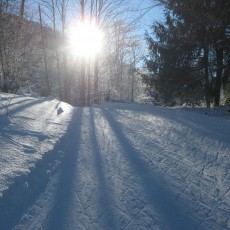 Update 9 pm.: Now we were able to prepare all trails fresh again, but please be careful when go downhill. We looking forward to your visit on the upcoming sunny 3 king weekend!
The heavy rain yesterday was not promotive for our cross-country trails.
Today in the morning we were able to prepare the Kugelberg trail. Especially at the Bramsau field the slopes are in a good order and we could avoid the wet parts.
The village trail is not drivable any more, also the connecting trail from Faistenau to the Tiefbrunnau valley. We not recommend taking the tracks which exist there.
Direct in the Tiefbrunnau valley the status is good, the snow cover the landscape there. Take the parking 3 or 4 to enter the trails; we make them new in the early afternoon.
Also the trails in Hintersee are prepared and in a good order.