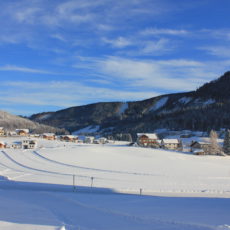 Update 20.01.20: Today it snows again a little bit in Faistenau, our trails are prepared, see status from yesterday. At the noon time we will try to make the trails into the Tiefbrunnau valley. If this succeeds we will publish it at this website.
In Hintersee they were also able to make all cross-country slopes new again!
Status 19.01.20: During the morning we ware able to prepare our village trail again, but only the skating track.
Also at the Kugelberg field you can use the skating & classic trail, access at the tennis court.
And certainly our artificial trail skating & classic we make new regularly.
We looking forward to your visit and wish you a lot of fun!