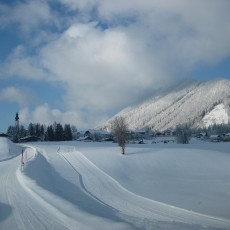 Update 09.01.20: The village trail and Kugelberg field are drivable, but because of the less snow situation we are not able to make it new again, please note that it also could be icy. Die artificial snow track we prepared fresh yesterday evening.
Status 07.01.20: Yesterday evening we ware able to prepare our village trail, but only the skating tracks.
Also at the Kugelberg field you can use the skating trail, access at the tennis court.
And certainly our artificial trail skating & classic we make new regularly.
In Hintersee all trails are drivable, there are 12 km classic + 8 km skating tracks prepared!