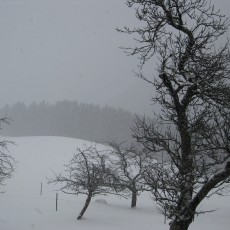 Today finally it stops snowing in Faistenau-Hintersee!
During the morning our trails in the villiage area will be prepared new again.
We are not able to prepare the trails in the Tiefbrunnau valley, it would take 1-2 days, so we wait until the snow situation getting better. The weather forecast predicted snowfall again on the weekend.
In Hintersee it is to dangerous to prepare the trails in the moment, because of falling trees. Please note that there are also some street closed.